Jon Gray is interesting because he's interested. Born and bred in the Bronx, where the people are fresh. His curiosity has taken him around the globe and has him often seated across the table from world renowned thinkers, artists and chefs– but he's most passionate about home. A co-founder of the Bronx based collective Ghetto Gastro, he's building his own proverbial table, to which he'd like to invite the world. Founded in 2012, Ghetto Gastro honors the block to block shifts and overlap in international cuisine and culture that happens in his borough. The collective is committed to feeding, inspiring and growing young entrepreneurs in the Bronx.
John: I'm currently an underwater ceramic technician at The Black Power Kitchen aka Ghetto Gastro. I spend my time nourishing minds and rinsing pockets. Ya dig. Hans Ulrich Olbrist also claims I'm the social sculptor of our generation. Haha.
On Power in issue 3 – chakra 3
Food sovereignty is power. Having knowledge of self is power and also a major key to unlocking human po- tential. We all hold power, it's just that we've been fed an abundance of false truths and the current world order isn't geared to the people having the power. I feel most empowered when I'm making it pop with the gang for the benefit of the world. Keeping this abstract intention- ally. My purpose is to use the tools in my kit to help people I care about. That's the crux of it. We can zoom in to my immediate circle of fam and we can zoom out to the planet as a whole.
IG @ghettogastro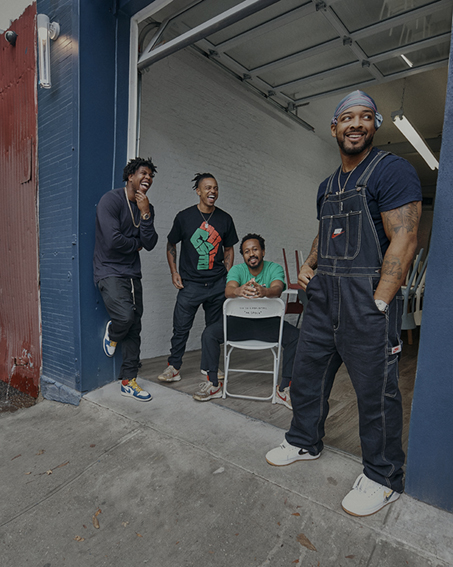 Photography by Jake Jones