Call them power shifters, or empower-ers, we spoke with 30 New Yorkers, who are raising consciousness through Activism, Beauty, Fashion, Food, Holistic Health, Innovation, Movement and Sound. The brands and businesses they built are premised on the idea of interconnectedness. They are about purpose, determined to use their power and influence to instigate positive changes within the communities they serve. In other words, they create human shifts.
The gut is the spot on the body holding us upright and standing in our power. On the physical plane, a healthy gut is the bedrock of a well-functioning immune system, keeping the neural highway between body and mind flowing and clear. It's also the wellspring of intuition, igniting passion, firing up and directing our will if we know how to listen for it. The 'movers and shakers' profiled are most certainly attuned.
Shame is the opposite of power, eliminating our natural tendency to turn energy into action. Some reject it completely while others use it as teacher. Is it a useful tool for the evolved human? The jury is still out.
The city is an active participant to all who operate here. New York affords the human resources of ideals, confidence, ambition, will-power and the constant determination to succeed. It's fulfilling and exhausting, relentless in its fire-y energy. Most require a regular respite in a natural landscape, easily accessible with the swipe of a Metrocard.
The Lower East Side Girls' Club was founded in 1996 to address the historic lack of services available to girls and young women on the Lower East Side. The club consciously set out to create a new model of community center, creating a culture that values creativity and experimentation, while putting girls and women at the center of their community development and revitalization. By training the next generation of ethical, entrepreneurial, and environmental leaders, the LESGC aims to break the cycle of poverty in which a significant portion of its members live. The benchmarks set by the club are life–changing for its members. Girls in middle and high school learn how to overcome adversity, perceive opportunity, develop self-confidence, make ethical decisions and healthy life choices, thrive academically, embrace leadership, and have the ability to enter college or the workforce as fully prepared and connected adults. The community center offers a safe haven with programs in the arts, sciences, leadership, entrepreneurship, and wellness. Facilities include a Maker Shop for engineering and coding; Biology lab for STEM programming and research; Alphabet City Art School for visual arts and crafts; Center for Media and Social Justice for digital media and photography; Sound Studio for music production and our radio station/podcast, WGRL (Where Girl Radio Lives); Design Shop for fashion design; a rooftop farm; full culinary kitchen and cafe; and 30-foot dome planetarium, and a slew of weekly programming, all free of cost to its members.
Focusing on empowerment and action, the LESGC as an organization, embodies the most poignant aspects of the third chakra. We touched upon its central themes with the club's leadership and one of its most inspired and prolific members.
ERIKKA ELECTRA JAMES
Erikka Electra James is the Director of Program Partnerships at The Lower Eastside Girls Club of New York, where she directs programming and special events for young women with an emphasis on social justice, art, and activism.
Erikka: Power is action. I think power is having the drive to be active – to be actively thinking, actively learning, actively questioning. I feel most empowered by my community of doers, thinkers, artists, young people, and the women at the Girls' Club. My purpose right now is to open as many doors as possible for young people, especially young women of color. My purpose is to create active spaces, that ignite critical thinking and creativity.
Shame is a feeling that we've all experienced. It's how we learn, grow, and do better the next time around.
I grew up in New York City and I love it. I love walking and discovering new streets, hidden parks, and secret art. When I feel overwhelmed by the crowds and the concrete, I escape to the park or ride the ferry. Sometimes you need to get a little lost in order to find your way back truly energized.
IG: @girlsclubny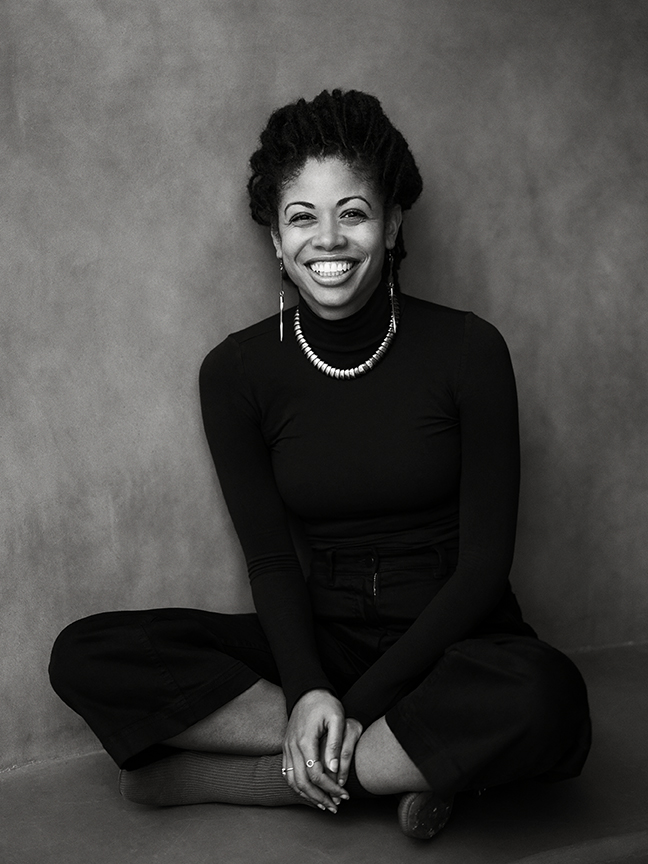 Erikka Electra James – Photography by Sebastian Kim 
SHANDRA ROGERS
I'm a full-time high school student, but I like to call myself an activist. Every day I learn more about the world and gain perspective. At the Girls Club I have resources to better help me effect change. This past school year I worked on a photography project around water sustainability, using Girls Club cameras. My goal was to challenge people in a position of privilege (most New Yorkers), to think about their relationship with water. I was glad to be invited to speak at the UN about my work and to present at Photoville.
I have organized walkouts in my school. As one of the few minorities, I felt inclined to speak out about gun violence so that I can speak to how it affects people of color. I spoke to thousands of city students, drawing attention to gun violence in marginalized communities. I created a T-shirt in which the illustrations are inspired by political and social issues I see in my community. I am a representative for Colin Keapernick's Know Your Rights Campaign. I am humbled to be able to travel the country speaking to marginalized youth, building and growing with them. The feeling of joy and love from this camp challenges me to be better. I hope to continue to work to bring intersectional solutions to the table as well as bringing the voices of those underserved to light.
Power is such a complex word. Power is Freedom. I dream of a day where the people get to utilize the power stored within them. I have a strong belief that I was put on this planet to bridge gaps in our society. Bridging the gaps between hearing and understanding marginalized people. I was born FAR too understanding. Which sometimes sucks, but I know this is because I was put here to be someone who understands people so that I can help implement effective change.
New York is New York. It can't be explained, it just has to be experienced. I LOVE NEW YORK! I take so much pride in being from the city. As a Manhattan girl, the city really made me the person I am. I had to grow up fast. Although the city can be amazing, it is completely unforgiving. Some people don't care about who you are or where you come from, they want you to blend in and follow the unwritten rules of the city. People in the city never stop. And I think that's what makes me so determined and perseverant. New Yorkers are hard workers.
One place that sparks me to action is Harlem. Harlem is so rich in history! Walking up and down the streets of 125th you just FEEL the Black culture. It's this melting pot for African and African American culture, which I believe you can't find anywhere else. When I'm there, I'm more determined than ever to make my ancestors' sacrifices worthwhile.
IG: @siarcc22602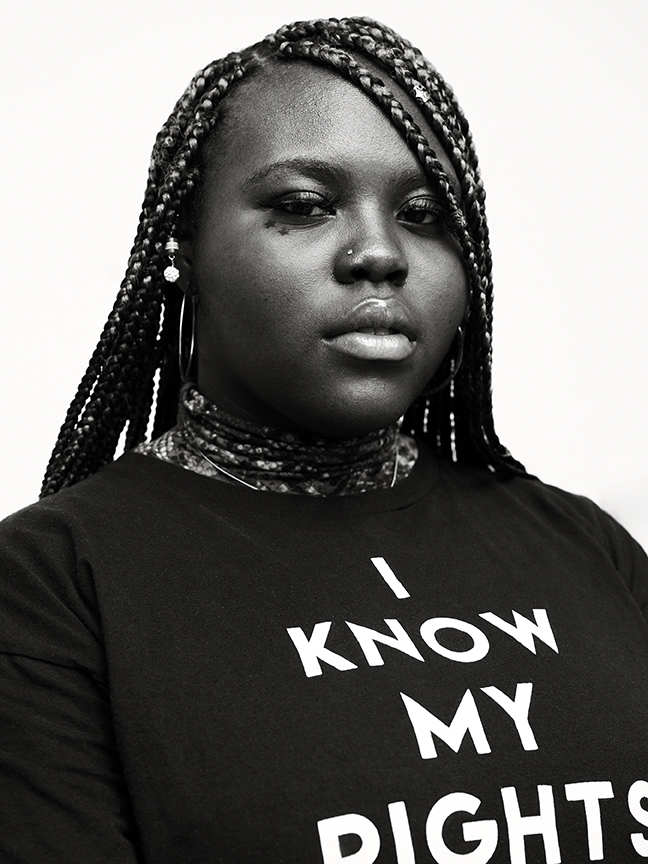 Shandra Rogers – Photography by Sebastian Kim 
JON GRAY
Jon Gray is interesting because he's interested. Born and bred in the Bronx, where the people are fresh. His curiosity has taken him around the globe and has him often seated across the table from world renowned thinkers, artists and chefs– but he's most passionate about home. A co-founder of the Bronx based collective Ghetto Gastro, he's building his own proverbial table, to which he'd like to invite the world. Founded in 2012, Ghetto Gastro honors the block to block shifts and overlap in international cuisine and culture that happens in his borough. The collective is committed to feeding, inspiring and growing young entrepreneurs in the Bronx.
John: I'm currently an underwater ceramic technician at The Black Power Kitchen aka Ghetto Gastro. I spend my time nourishing minds and rinsing pockets. Ya dig. Hans Ulrich Olbrist also claims I'm the social sculptor of our generation. Haha.
My purpose is to use the tools in my kit to help the people I care about. We can zoom in to my immediate circle of fam and we can zoom out to the planet as a whole. 
Food sovereignty is power. Having knowledge of self is power and also a major key to unlocking human potential. We all hold power, it's just that we've been fed an abundance of false truths and the current world order isn't geared to the people having the power. I feel most empowered when I'm making it pop with the gang for the benefit of the world. Keeping this abstract intentionally. My purpose is to use the tools in my kit to help people I care about. That's the crux of it. We can zoom in to my immediate circle of fam and we can zoom out to the planet as a whole.
The gut for me is the sixth sense. And it manifests in different ways, I think our nervous system has means to decipher energies on a metaphysical feeling. When I think of gut feelings I think of nervous vibes. I still get a feeling in my gut when I walk by the Bronx Supreme Court, same feeling I got when I was fighting for my life.
Shame is an interesting concept that is rooted in the absorption of societal norms that are projected upon us. I started hustling because i needed pocket change and wanted the drip. I also transmuted the shame I felt from having my moms and grandma supporting me while I was fighting a case into finding my life's work.
NYC is energy and it affects me differently depending on the day, the season and the neighborhood. I'm working on being more present and not taking what the city has to offer for granted, because it's easy to be passive about the unique aspects of NYC when you've lived here your entire life.
IG @ghettogastro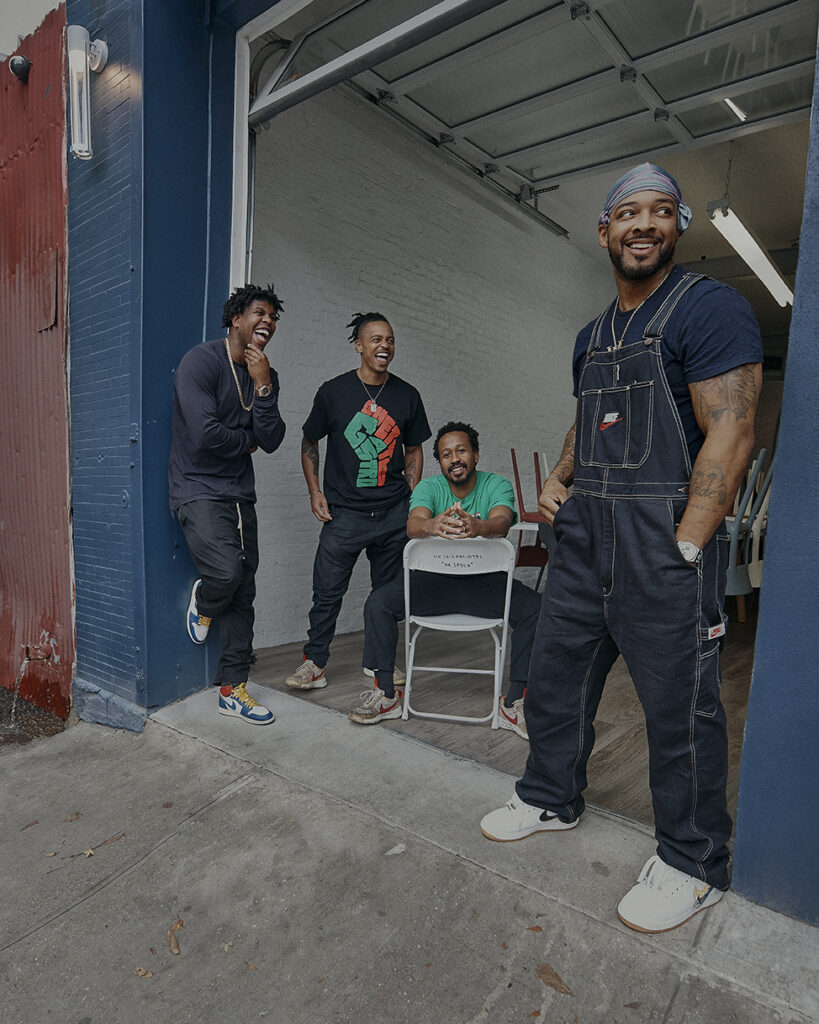 Jon Gray and Ghetto Gastro – Photography by Jake Jones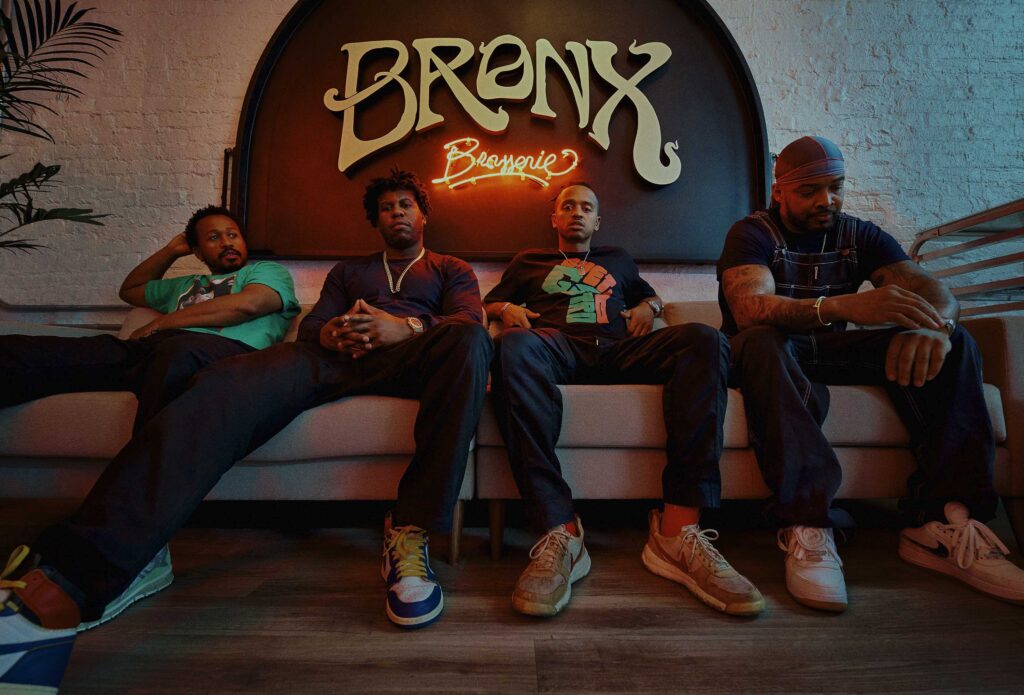 GLENDY YEUNG
Glendy is a woman of many titles, she's a Certified Sound Practitioner, Multidisciplinary Energy Coach (Pranic Healer, meditation teacher, flower essence therapist, artist and crystal healer) and Vibrational Wellness Educator. What's exceptionally unique is it took a successful career in data security for the finance, insurance, life sciences, auto, government industries to bring her to her present. In order to thrive in her corporate roles, she sought out ways to change the way she experienced her thoughts, emotions and her relationship with her body, mind and spirit – enter, vibrational wellness. Her path is now dedicated to developing opportunities for people to come to the space of balance, calm and creative flow at work via corporate wellness program, retreats, live stream and recordings.
Glendy: Power to me is awareness and neutrality. When you can objectively note what is arising in the moment, inside and outside of you, and be able to maintain a state of neutrality – solutions, healing and authentic response can emerge with grace. It is my wish that humanity can access this power with ease.
My purpose is to bring clarity, focus and resilience in body, mind and spirit by empowering people with the practices of vibrational wellness. I believe the most efficient way to make changes to your world is to change and heal yourself. One of the quickest ways to get there is to affect the change from the level of energy and vibration.
Shame is a feeling that restricts like invisible shackles. Often put on by ourselves or at least by our allowing its placement. Shame to me implies judgement. Whether the judgement comes from within or an external source, any reaction arises from the judgement negates freedom and authenticity.
In my relationship with New York, I am currently in a phase where I cherish the quietude of the city (yes, that exists). I am a lot more sensitive to sound, which lead me to taking smaller doses of the city. Humming has a been a great tool to accompany me when I navigate the city, especially in the subway, to soften the harsh vibrations all around.
IG: @glendyyeung
LINDSAY ASHMUN
I spent my childhood running around on farms in Virginia but grew up as an adult in the wilds of New York City.
I respect and question traditions. All my greatest teachers were pioneers in the field of somatics, and I carry that lineage with great honor. I was a teenage yogi in the mosh pit with tinnitus on the weekends. I miss the 90s.
I feel very fortunate to be alive. I use my body to relate and communicate. I believe in people.
Power is feeling, seeing, hearing the truth and acting in accordance to represent that, no matter what. Any person who chooses to use their body's capacity to voice truth holds power. 
In my professional life, I am a master Yoga and Pilates Teacher, Advanced level XPT Coach, under the guidance of Laird Hamilton and Gabby Reese, and professional dancer. I founded two practices designed to help potentiate the greatness in humans: GROUNDCONTROL (TM) and BreatheMoveRecover (heat and ice exposures and breathwork) in Brooklyn and throughout Manhattan.
Power is feeling, seeing, hearing the truth and acting in accordance to represent that, no matter what. Any person who chooses to use their body's capacity to voice truth holds power.
Shame is a feeling that… comes when integrity is muted, and an apology is being suffocated. Shame is a fine line. I think it presents a clear choice: either move forward across the scary, uncertain, unmarked path, or get swallowed by the quicksand under the weight of the denying self. Shame draws a fine line. This feeling is an opportunity for transformation if one chooses to go the way of forward motion, of admittance, of forgiveness, and acceptance of imperfection. Shame is a feeling that lingers as a reminder to stay present in reality, and make choices that will lead to love and connection. I do think eventually shame is a feeling that evolves into action, or the opposite of action.
I relate to New York like a body. It has involuntary systems and consciously created rhythms that are constant and necessary to thrive. We are always sharing space with others – and what isn't seen is heard. While we may feel we are strangers, we are all in this organism: separate or together. Like a body, everything is interconnected. There is opportunity to help people at any moment here. NYC is a pedestrian-heavy city. I am constantly reminded to take care of my boundaries and energetic field so that I can stay healthy and feel better connected. It is a very physical place. It will make you strong or break you down. There is so much unpredictability too. NYC will tell you "anything is possible" and then, you turn the corner, and it'll break your heart in two.
IG: @groundcontrolnyc @breathe.move.recover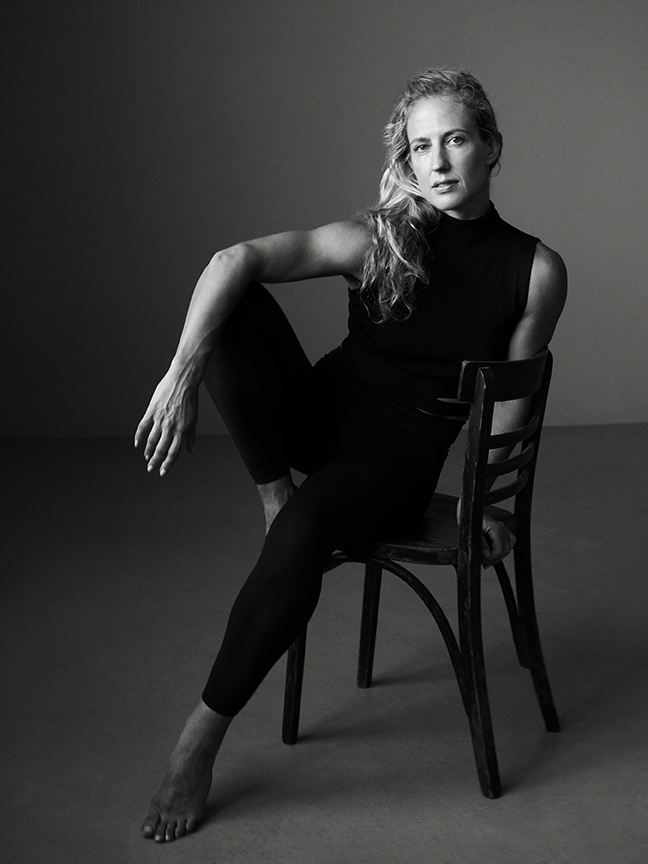 Lindsay Ashmun – Photography by Sebastian Kim 
MICHELLE K GAGNON
Michelle is an olfactive artist, distiller, phyto perfumer and aromatherapist. She descends from a long lineage of floriculturists responsible for creating hundreds of thousands of varieties of rose and works with an impressive collection of top-quality essential oils and extracts. Working exclusively with wildcrafted/organic botanical ingredients and essential oils sourced from farms and artisan distillers around the world, her company Bio Alchemy Olfactive, collaborates with various spaces and brands designing their olfactive experience or formulating their products. A more recent project, scenting The Well.
Michelle: Our thoughts are power, and power is energy. Power is patience, knowledge, mindfulness and understanding. Power is the ability to positively affect and inspire others and it is contagious. I believe power resides within us, and infinitely emanates from Mother Earth.
Fire represents duality. It can illuminate beauty and grace, yet its fierceness can destruct and devour, and even then, give way to new beginnings/life. I like to play with fire every once in while…
Shame can cause great discomfort and pain. It can act as a shield to other emotions or allow us to more intimately understand ourselves.
New York City is an energy vortex. It is also a little smelly, but I like it.
The Union Square Farmers Market, rain or shine sparks me to action. All year round, I am up early, to walk to the market for my produce. The seasonal produce inspires me to cook different meals, and even inspires the construction of some of my formulations.
IG: @michellekgagnon
JYLL HUBBARD-SALK
Founder and owner of Urban Asanas, a yoga studio in Crown Heights Brooklyn. Jyll is a certified yoga instructor, Reiki practitioner, motivator, influencer, and "always-working on myself." Her goal in opening the first-of-its-kind studio in her Brooklyn neighborhood, was to diversify the yoga community by creating classes that cater to every ethnicity, gender and budget. Her success is evident in the filled-to-the-brim classes that she and her teachers lead. She is a fierce advocate and supporter of other local, small businesses.
Jyll: Power is finding inner strength to achieve the best version of you, that you can be. Power is finding your liquid sunshine, even in the toughest moments. Any person who shows up for SELF holds power. It starts from within. When I take care of myself, then I can extend that olive branch to others. I feel most empowered when I am supporting other people. My community is an integral part of my inspiration.
Shame is a feeling… I have no familiarity with that word. It does not exist in my world.
NY is my life, my livelihood, the diversity within my family. I am married to a Jewish man and have three biracial children. New York makes that level of diversity possible. Sometimes New York can fire my energy, and at other times it can suppress. It depends on a lot of factors, some of which may just be body chemistry on any given day.
IG: @itsjyll
MICHELLE SPINA
I'm a third generation New Yorker. I grew up in Bensonhurst, Brooklyn and spent the majority of my youth in the Village, Lower East Side and Alphabet City. I have been a practitioner of TCM (Traditional Chinese Medicine) for the last twenty years. My hope is to impart wisdom, and useful knowledge to people's lives. My patients view me as an expert on fertility, beauty, herbs, spiritual bathing and beyond. Healing is an interactive experience. I believe it should be effective, and as fun as possible.
Power is the strength to live as you truly want. It's freedom, communication, creativity, exchange, transformation and exploration. Everyone has the ability to hold power, but it is a conscious choice, and a muscle that must be flexed in order to grow. I feel the most empowered when I'm in my flow state. I don't question, I focus and get grounded as I listen to my higher self. A major part of empowerment for me is being present and having gratitude.
The gut is your primordial self. The gut is your instinct unadulterated, it's your soul. It is the essence of you, before you get diluted by life-experiences, that teach you to doubt.
Shame is a feeling that can ruin people or save them. It's a double-edged sword wielded by social constructs and norms. Something shameful in one area of the world can be totally acceptable somewhere else. Shame can be used to curtail poor behavior. Rules, standards, ethics and social graces seem to depend upon shame for enforcement. Healthy shame comes when you develop and grow into your true self.
NYC is very much like fire, it can illuminate, warm and nourish just as easily as it can consume you. 
New York is my world, my standard of normal. It is fast-paced, creative, energetic, gritty, tough, inspiring and soul crushing all at once. It sits atop a bed of schist layered with quartz and garnet, maybe that explains the energy of the city. The energy of this city drives you to push and strive, but it can be unrelenting. The give and take gives the opportunity to create, be inspired, and connect at almost every turn. But you can just as easily be lost, alone and frantic. I guess NYC is very much like fire, it can illuminate, warm and nourish just as easily as it can consume you.
Walking alone in the city with no agenda activates my memory and stimulates my mind. I walk among ghosts of the city. I can feel it.
IG: @michellespinanyc
MAIA RUTH LEE
I'm an artist, and I run a non-profit, art after-school program in NYC called Wide Rainbow. WR was founded by Ashley Gail Harris, a strong believer of after-school art programs. WR consists of seven women, who pour our hearts into the program. Our mission is to bridge the gap between the immense art resources we have in NYC with the immediate communities around us – we provide access to arts and art education by connecting contemporary artists with community partners to host on-site workshops as well as gallery/museum walkthroughs. It's quite the dream job as I love children and I love art. Whenever I have some studio time, I get to do that too.
Power is something intangible, something that keeps shifting and changing. Power can be enlightening but can also bring weakness. Everyone holds power. I feel most empowered when I feel heard.
Purpose runs parallel to power – it has a similar trajectory but is harder to attain than power. Purpose is the essence of life, what keeps you truly motivated and awake. My purpose is to stay true to myself and people I love, it's to keep working on Wide Rainbow and its mission and to keep art in my life.
Shame can be the source of self-doubt, self-harm and damage. I don't want to condone shame, and I don't want to teach that to my children either.
New York is an upper and a downer all at the same time – it brings me so much joy and in the same day I can feel so drained and exhausted. But it does reward you; after you're plugging away for years and years, one day, it throws you a bone.
IG: @maia_ruth_lee
MARA HOFFMAN
Mara Hoffman founded her fashion label in 2000 after graduating from Parsons School of Design in New York City. Fifteen years later, the brand committed itself to implementing more sustainable and responsible practices. In an effort to foster mindful consumption habits, the brand maintains an open conversation about its approach and encourages consumers to reevaluate the relationship society has with clothing. The company continues to focus on sustainable materials, processes, and production in order to improve and extend each garment's life.
Mara: Power is having the ability to create change. For yourself and for others. Power is being able to move freely through your life without restraint or resistance. Power is being able to be of service without losing yourself. Power is awareness and the ability to call in a life that reflects your greatest desires. Power is knowing and trusting that you are the master creator of all of your experiences and working from that place. Those who are free have power. The ones who are connected to their higher selves have power.
Shame is a feeling that creates roadblocks, stuck-ness, and self-doubt. The goal is to live without shame: to get so good at being with yourself and loving yourself that shame has no space to exist. The only positive aspect of shame would be if it can serve as a catalyst for positive internal change and higher levels of self-awareness. I feel any aspect of discomfort or inner unrest is an opportunity to dig deeper and reset to a higher more loving frequency.
NYC has always represented "action" to me. It is where you go to get things done. The city is always moving and can easily distract from personal attempts at stillness. The older I get the less connected I feel and the more I long for extended periods of nature and quiet. I hear all of the sounds of NYC in a different way than before, I feel the collective energy of all the people with much more sensitivity now more than ever before. I spend my time between my office and my house.
One of my favorite things to do is walk the Williamsburg bridge early in the morning to get to work. Something about that bridge and the right music is so cathartic. I've had many breakthroughs walking that bridge singing at the top of my lungs.
IG: @marahoffman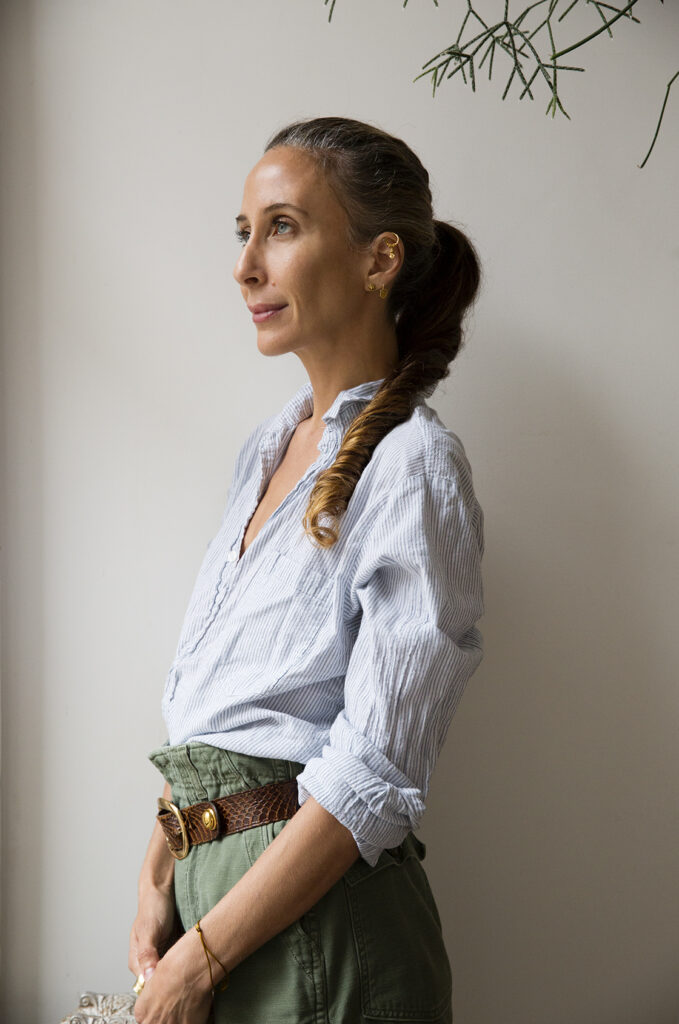 Mara Hoffman – Photography by Skye Parrott 
ROBYN BERKLEY
After years in the fashion world, the veteran NY publicist realized she needed a break and left the stresses of the city behind, for a journey of self-discovery in Bali. Upon returning home with a new awareness, she and her partner launched Live The Process, a style- and well-being activewear brand. Live The Process is a holistic concept, encompassing editorial, and retreats all in perfect synchronicity with their ethically-produced and forward glam-leisure line.
Robyn: Power is such an interesting word. It can be both positive and negative. Power combines the idea of hard work and passion and working towards something that feels bigger than you. It's the energy you put into anything. I feel most empowered when I am creating and concepting and figuring out how all the pieces of the puzzle fit together to create something memorable, and authentic, and always with a soul. It is the most important thing to me.
I work hard and I like to create and collaborate. I enjoy building dreams and manifesting them to fruition. I had this crazy concept to change the idea and concept of wellness into something that felt special, luxurious, and coveted. I wanted to communicate those feelings through activewear. The whole process has been introspective– it has taught me to look for people that represent my idealism and my approach to life.
New York is intoxicating in every way. You need to take advantage of all the city has to offer. The options are endless. I love the theater, ballet, museums, restaurants, parks. The city is not for everyone. The intensity is strong if you don't know how to work it to your advantage. The city has taught me so much about myself, life and how to just make things happen. It's magic.
IG: @livetheprocess
WILL SIU, MD, DPHIL
Will Siu, completed medical and graduate school at UCLA and Oxford University, before training as a psychiatrist at Harvard Medical School. While completing his residency Will, became interested in psychedelics as healing tools. He researched, and trained, and now has a private practice in NYC, where he provides ketamine-facilitated psychotherapy.
Will: My full name is Willie Omar Siu, and I live in Brooklyn. I am of Chinese/Nicaraguan descent, my parents emigrated from Central America and raised me Jehovah's Witness. My life path included detours in atheism, obesity, bouts of depression/suicidality, and degrees/ faculty positions at prestigious universities, before finding my true path to happiness lay in the journey into the deepest crevasses of my soul and spirit.
Power is the ability to fully surrender to each moment and to respond from a place of clarity, and authenticity. On my healing journey, this has meant moving through expectations of family, religion, masculinity, and to give myself permission to feel, and express the full breadth of human emotions. In The Odyssey, Odysseus battles fearlessly throughout the Trojan War, yet helplessly drowns in tears, when he embraces his son at the end of his journey back to Ithaca. This is power. The human healing experience centers around losing our power, and then rediscovering that we alone have held it all along. When we intimately embrace the total agency we have over our lives, the possibilities are endless.
The gut brings awareness, yet does not enforce choice, as it allows humans one of our greatest gifts; free will and agency. 
I see the gut as the interface between the mind, body, and spirit. It is the mechanism which humans possess that brings awareness, via emotions , to the choices we face and whether they are in line with our soul. The gut brings awareness, yet does not enforce choice, as it allows humans one of our greatest gifts; free will and agency.
Shame is divine. It's like the 're-routing' function on our GPS when we make a wrong turn. We experience shame when who we are being, is out of alignment with who we are. Navigation can skew, as the GPS coordinates to our souls become masked by expectations of culture, religion, family, etc. This leads to perceived values as opposed to true values. Shame (and other emotions) allow us the opportunity to sort through the confusion described above. As we move through our traumas, we find that we alone hold the steering wheel, and must choose to navigate back on course. The evolved human recognizes and embraces shame, using it to transcend further.
New York City is like swimming in the petri-dish of the human unconscious, where humans mirror both our light and shadow parts. I feel it provides the gamut of all human experiences, and emotions like no other place on earth. Remaining grounded to one's root, while exploring one's boundaries here is critical; not all NYC stories end in success. I can say from experience that if you show up vulnerably and authentically, the city and its people will be there to hold you. I think that's why people keep coming here; it's a place where dreams really can come true.
IG: @will.siu.md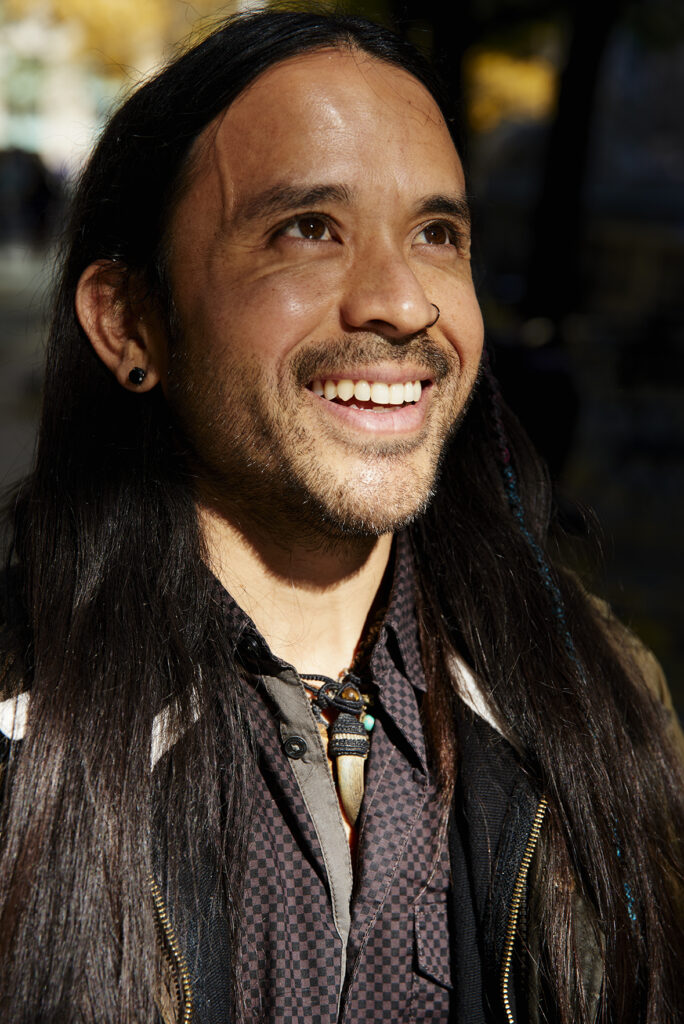 Will Siu – Photography by Michael Marquez 
MANJIT
I am a meditation teacher, Sekhem energy worker, singer, sound healer and breath work facilitator, (oh yeah and I cook dope Indian food also lol). I have a podcast Find the Others with my friend Tony Leroy, an intuitive counsellor (basically he's psychic and he sees dead people). We interview people interested in topics related to all aspects of spirituality. I was fortunate to be raised by my most influential teachers, my parents. Active in the Sikh Temple and community, I learnt as a child to sing and perform Kirtan (Indian hymns) onstage, and later built on this foundation for performing as a singer-songwriter. I now use these same prayers as part of my sound healing modality. I love what I do – helping people realize their own power.
We all hold our own power, but we often give it away. When we channel our thoughts and slow down, we can harness that power all the way back into our third chakra and turn it into fuel for what we really want. A lot of people are using their power in the wrong way, by covering trauma needing to be healed, and allowing their ego to emit negative emotions. I want people to access their joy and understand that they too can create whatever life they want, but they have to be willing to also put a step forward towards it. I am at the point where I realize that everything I have done and learnt in terms of being an artist is all coming together, and lays the foundation for my healing work right now.
Fire represents creativity, but I also like the concept of it burning, and letting go of everything that doesn't serve us. When we are in the mode of creativity, and living our life to the fullest, that is the fire of creation burning at its brightest. We cannot even think about negativity when we are doing what sparks our soul.
Shame is something that usually comes from social conditioning, often programmed before the age of seven. The real work comes when you learn to activate the third chakra and be confident within yourself. Then shame becomes a learning experience, and an obstacle to overcome. 
Shame is something that usually comes from social conditioning, often programmed before the age of seven. The real work comes when you learn to activate the third chakra and be confident within yourself. Then shame becomes a learning experience, and an obstacle to overcome, to go beyond where you may have thought you failed. That's what I call healthy shame. When you strengthen your self-awareness you can dust yourself off more easily and try again.
I think I could describe New York as being the center of fire, action, and energy.
IG: @manjitmeditation
FRANK LIPMAN, MD
A visionary physician in functional and integrative medicine, for Dr. Frank Lipman, health is more than just the absence of disease: it is a total state of physical, mental, emotional, spiritual and social wellbeing. After his initial medical training in his native South Africa, Dr. Lipman spent time working at clinics in the bush. He became familiar with the local traditional healers, called sangomas, which kindled his interest in non-Western healing modalities. Landing in the Bronx in 1984, Dr. Lipman went to work at a local hospital. He became fascinated by the hospital's addiction clinic, which used acupuncture and Chinese medicine to treat patients. Seeing positive results, an awareness of the benefits of non-Western medicine was cemented. And so began his journey of discovery to search for the path to meaningful long-term health. In his practice he integrates nutrition, acupuncture, Chinese medicine, herbal medicine, functional medicine, biofeedback, meditation, and yoga. He's currently writing his sixth book.
Frank: Power is being authentic and true to oneself and being able to manifest my beliefs with ease. I feel most empowered when I am making a difference in other people's lives and seeing them make the positive changes that allow them to be happier and healthier My purpose is to spread the word of good health, to dispel the medical myths of this culture and empower people to take charge of their own health and not only rely on the current medical institutions.
I have a very specific understanding of the gut as it's what I work with when treating most of my patients. To me the gut is the gut microbiome, and its health determines our health. We have many more one-celled bacteria living inside the human body than we have human cells that make up our bodies – and most of them live in the gut. There, trillions of these "bugs", collectively known as the microbiome, handle some pretty crucial functions that we couldn't live without. They help our immune system identify toxins coming into the digestive system that need to be neutralized, they break down the insoluble fiber in the plant foods we eat. In the process making compounds that repair and build up our protective gut wall; they help produce vitamins and hormones. They even work in tandem with hormones produced in the gut to regulate our mood.
Shame is a feeling that pushes me to become reflective and reconsider decisions.
New York is my adopted home. It is the place that has given me the opportunity to explore dimensions in my life, that would have been hard in other places, and to connect with incredible people from all walks of life, that I would never have had the opportunity to meet.
IG: @franklipmanmd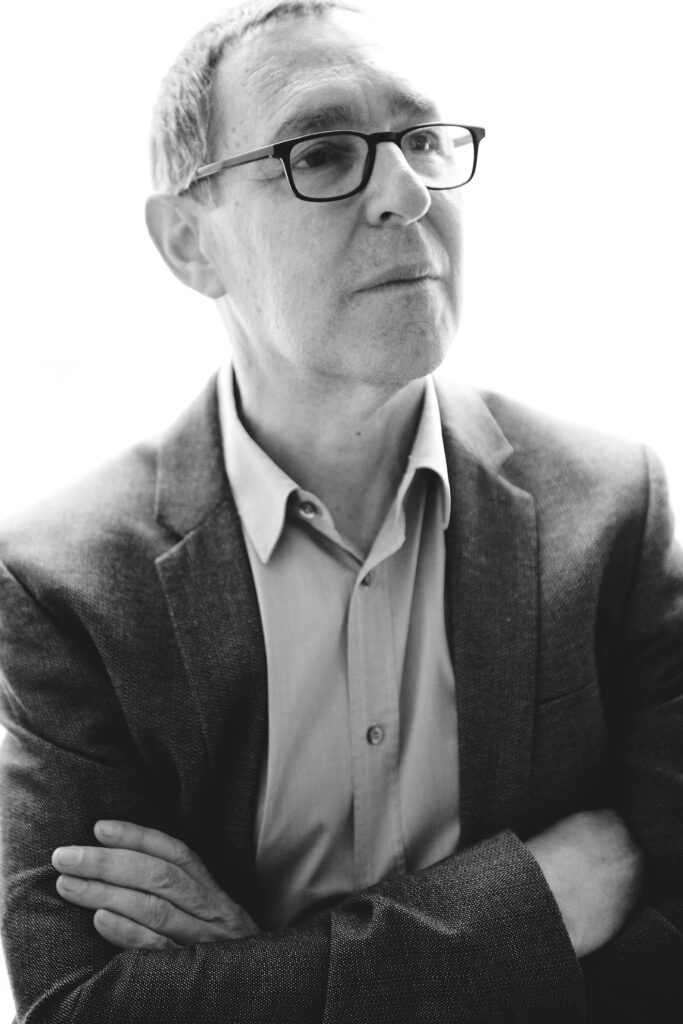 Frank Lipman – Photography by Michael Marquez 
NIKKI VILELLA
For the past fourteen years Nikki has been the co-director of Kula Yoga Project in NYC. As a teacher, she strives to include the perfect alchemy of alignment, intelligence, intention, and space into her classes. She is also known for giving some of the most kick ass assists in NYC.
Nikki: Power is being able to make informed decisions for myself rather than someone making them for me. Autonomy.
In general, I would say in this society white people are gifted more power than anyone. And men are gifted more power than women. Everyone who isn't gifted power in our society has to work for it. Even fight for it. On the flip side, if you are asking me who has more inherent power, I would say women are the most powerful beings I know. They may or may not be the face, but they are the spine.
My purpose is to foster community and hold a space where that community can come both individually and as a collective to make progress. That means to help people practice in a way that makes them better mothers, fathers, children, neighbors and friends. My purpose in society is to try to bridge the gaps. To bring people together who would not normally interact and find common human ground. I would even say to redistribute power. To (re)gift power to those who feel unempowered and to dismantle whatever faux sense of power people have that makes them feel they have authority or privilege over another human being. My spiritual purpose is to help people connect to something higher. It's easy to get bogged down in the mundane and the struggles of daily life. More specifically I want to help people connect to spirit in a way that transcends religion. I grew up Catholic. I find there is a lot about religion that is dogmatic and can separate people. I don't care what religion you are. If you are in my class, we are all in this together, and there is something higher present that we can connect to; something that allows each of us to touch 'spirit' beyond one's religious beliefs. I bring this up because I grew up equating 'spirit' with 'religious practices.' I no longer believe that.
Throughout my life I would connect shame to a fear of failure or being exposed and embarrassed. The desire to avoid this feeling has always driven me into action and inspired me to work hard. This facet of shame drives me less and less (because what is the ideal state, I imagine I should attain? A construct no doubt) but I would say I have worked historically with vigor because of it. I also see shame as an emotion associated with a breach of my values. Something different than guilt. If I act against my morals, I feel shame because of the decision I made. The substance of that emotion will keep me aligned in the future. That is a good thing.
New York feeds me and exhausts me.
Kula sparks me into action. It is a community full of brilliant minds and fascinating people who have a broad range of interests and ideas. It is a collection of people that my mother would call "the movers and the shakers" of the world. It's a community that is rich, and is real, and inspires me to do my part.
IG: @nikkivilella
ESTELLE BAILEY-BABENZIEN & BRENDON BABENZIEN
Estelle and Brendon Babenzien are not just arbiters of culture, they are active participants. With Noah, the duo seeks the consummate balance between making healthy profits and leading an exemplary life. The retail space is a cultural hub where ideas are shared, generational gaps are bridged, and relationships are strengthened. It's about creating an active community, not idle consumerism.
Estelle: Power is a belief in the unseen – also known as faith. It resides within me, runs through me. Thus I hold that power, as does anyone else who believes in it. The truth holds so much power. I never lie and I'm completely committed to Truth. And freedom is power. I feel most empowered when I meditate regularly and when I give and receive true and unconditional love.
Brendon: Power is tricky because we all hold power, but not everyone knows it. Within our society power is owned by those who are willing to act and recognize it within themselves. Unfortunately, power has been seized by people who don't use it properly. There are two types of people in the world and they use power differently. Those with power who transfer it to others, allowing them to see their own. And those who keep it and take it from others. I feel the most empowered when I'm sharing what little power I have with others. I feel like my power grows when I do that.
E: My purpose is to use my innate and learned abilities to connect with people on a deeper and more spiritual level. Professionally, it's my purpose to build a legacy brand – a responsible business rooted in ethics of a higher consciousness, and delivers quality thought, product, and content over quantity and greed.
B: My purpose is to raise a great human. Having a child has shaped how I make most of my decisions professionally and socially because everything we do, will have an impact on her future.
E: Shame shrinks ones' natural light and diminishes your spirit. Shame makes you feel worthless. Having a conscience is healthy. We need a way to monitor the quality of our conscience – so in this way I suppose shame is healthy.
B: We talk about shame as if it is a universally felt emotion. I think that is a mistake. We need to accept that some people don't feel shame at all. If this is true, we can't rely on it and need new methods to keep certain behaviors in check.
E: NY State has all I need: white sandy beaches, snow top mountains, lakes, a city that never sleeps, plenty of sunshine, the right amount of grit, culturally and ethnically diverse, and a super open mind. NY fully respects the hustle, and it's not too far from Europe. NY energizes and motivates me every day – there is no ceiling here.
B: NYC is the center of the Universe for me. It has informed almost everything I do. NY has always created the art, music and people that would influence me. I grew up close enough to access everything from shows and parties to skate spots, and clothing and magazine stores. When I didn't feel like I completely fit in where I came from, NYC was an escape to what was meant to be my reality. NYC brings my energy up. I think it has to do with the overall positive energy of people coming here to create.
www.noahny.com
XIYE BASTIDA
Xiye Bastida is a teenage climate activist based in New York City. She is one of the lead organizers of the Fridays For Future youth climate strike movement. Born and raised in Mexico as part of the Otomi-Toltec indigenous peoples, she sits on the administration committee of the Peoples Climate Movement, where she brings the voice of youth to existing grassroots and climate organizations.
Xiye: I am one of many teenagers who want to change the world. I am doing a lot of local work when it comes to organizing small and major actions, from climate strikes to lobbying sessions. In parallel, I run a Youth Activism Training Program in which I train youth on the basics of activism. I am confident about the impact that young climate activists can have on public debate and culture. Ultimately, the youth are realizing that we have a voice that we can use to ensure that we have a stable and healthy future, and we will not stop because climate activism is our way of life.
Power is the courage to stand up and speak up about things that are important to you. It is the determination to act when nobody else does, and lead when everyone is asking questions. Power is the ability to tell and face truth and accepting the consequences that it brings. Power is embracing a situation, and taking the first, and second, and third steps to make it better. Power is mindfulness, awareness, passion, and action fused together towards a single and complex goal.
Power is held by those who are united and have a common goal. The greatest power will always be held by Mother Earth. 
Power is held by those who are united and have a common goal. The greatest power will always be held by Mother Earth. Her ecosystems work with each other in balance, and within each other with mindfulness. Everything that Mother Earth holds is interconnected. We as humans are desensitizing ourselves to the interconnectedness. If we want to be powerful in a healthy way, we need to reconnect with nature and work together constructively.
My purpose is to shift the culture of the world back into balance. Taking care of Earth and being environmentally mindful should not be seen as a movement, it should be part of our culture and daily habits. We must take this opportunity and shift our culture into one of complete connection and revitalization of our values and morality with Earth.
Fire represents light and guidance. It is the embodiment of the Sun on Earth, and we should be grateful for this. Fire is sacred and wise, and in this time, fire represents cleansing.
New York is life. It is a place where everything has a meaning and a purpose. People end up in New York, or start up in New York, to create social impact, whether it is within themselves or out for everyone to see. New York provides me with clarity on the beauty of what I am fighting for. It also embodies many of the injustices that we are trying to dismantle. Through organizing the city and uplifting people's voices, you can see that the city will come together, and reclaim their street and their air and their water. Overall, New York is a complex city that reflects a complex world, but most of all, it highlights that everything is possible when we have drive, determination, and heart.
IG: @xiyebeara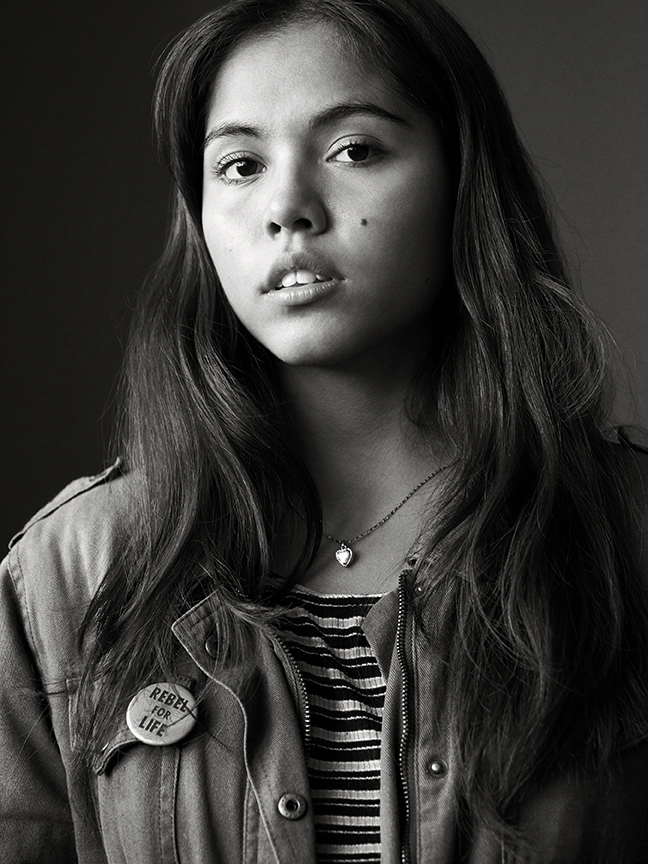 Xiye Bastida – Photography by Sebastian Kim 
ANGELO BAQUE
A die-hard Queens-native and current resident, Angelo Baque is founder of his namesake agency Baque Creative. Having spent his formative decade as brand director at Supreme, Angelo has learned a thing or two about the fashion and lifestyle scene, using his unique vision to transcend traditional boundaries of luxury and street. With a new, more socially conscious attitude and consumer in mind, he founded Awake NY, a clothing brand capturing the unique cultural spirit, soul and sensibility of New York City, combined with a message of awareness. To bolster his belief in giving-back, Angelo created and curated multiple iterations of the acclaimed pop-up activation Social Studies to inspire young people to contribute their skills and efforts to the growth of their communities.
Angelo: Power is possessing the drive to help something outside of and bigger than yourself, to make an impact. Power is the rarity of selflessness. A lot of people misconstrue what power is, that it has implied popularity and social status. However, anyone who is committed to a cause outside of themselves, whether it be through service, mentoring, art, or love, holds power. My purpose is to first reach my higher self through conscious efforts and lifestyle, then ultimately help others. You can only stretch your arms out so far if you're not right within. By building a relationship between my mental and spiritual health, I've created a life where I can pursue my passion and be in control of my impact.
Shame is a feeling you get when you're going against what you perceive to be right. If you are doing things that are wrong or unnecessary, you should feel ashamed. But it's knowing that it should be a temporary feeling- if you are persistently living in shame, you are betraying yourself, your path, and others. If we didn't feel shame, the world would be even more relentless. It gives us a sense of accountability.
New York is a relationship that is never satisfied, it is a demanding lover. It's a place that constantly gives and takes. As much inspiration as I get from the city, the pressure is not for everyone. Each day you have to work harder than the last. The version of New York that the generations before us knew as they were growing up, no longer exists. New York is a survival of the fittest, for the super-rich. And I'm not rich.
IG: @angelobaque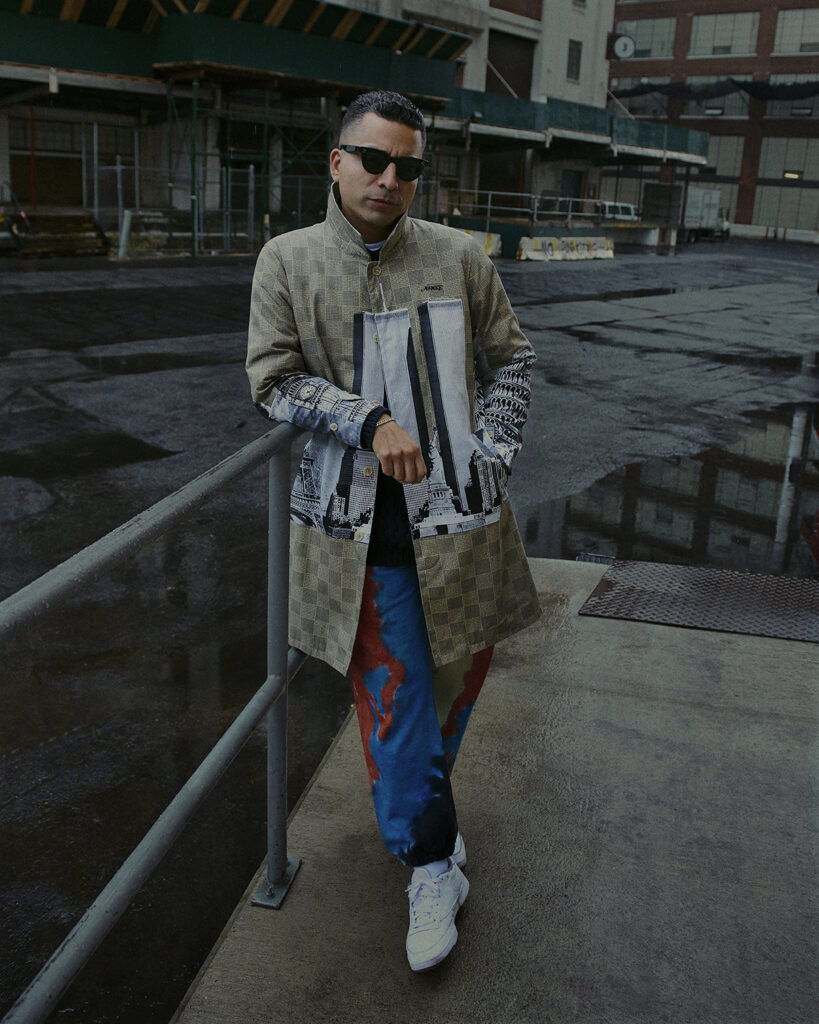 Angelo Baque – Photography by Jake Jones 
ABRIMA ERWIAH
A born and bred New Yorker, Abrima Erwiah is co-founder of Studio One Eighty Nine, an artisan-produced fashion lifestyle brand and social enterprise. The brand is 'made in Africa' (Ghana to be exact), and produces Africa- inspired content and clothing. From its inception, the focus of S189 has been on empowerment, creating jobs and supporting education and skills-training. Operating between Accra and NYC, Abrima, is currentlyteaching a class at Parsons School of Design, sits on the expert panel selection committee for H&M Foundation's Global Change Awards, and serving on the selection committee for the CFDA & Dia Co's Education Fund, supporting programs dedicated to diversity and inclusion. Abrima is a true fashion industry change-maker, focusing her power towards innovations in sustainability and representation.
Abrima: Power comes in doing what we believe to be right and being in community. Our strengths come from other people willing to support and make sacrifices for us – family, friends, and strangers. It's important to recognize that everything we have is a gift, and to realize if you are in a position to accept gifts and opportunities, then you are also in a position to pay them forward. It's important to acknowledge where we are today is a product from where we came from. Our power is in our interdependence, in our community, in our consciousness, in our ancestors, in our history, in our perseverance, in our love and compassion, in our honesty, in our authenticity, in our willingness to stand for what is right, and to take care of each other, in our humility, and thus in our humanity.
I feel most empowered when I am operating from a place of truth and love, when I am being the honest and true version of who I am. 
I feel most empowered when I am operating from a place of truth and love, when I am being the honest and true version of who I am. My purpose is to be a bridge – to connect the dots, to stand in my truth, and create a path for others, as my ancestors and my elders have done for me.
Shame? I don't really know.
NYC is in my whole being. It's the place where I derive my sense of self – I gain energy from being here. It's unique and it feels like family. Everything about NYC sparks me to action.
IG: @abrimaerwiah @studiooneeightynine
TYSON TOUSSANT
Environmentalist, engineer, entrepreneur, co-founder of BIONIC, a purpose-driven material engineering company, addressing ocean plastic pollution by creating fully traceable high-grade textiles and polymers made from coastal and marine plastic. Moving to the front line of the problem, Tyson and his partner recently set up operations in developing nations where there's no infrastructure to deal with single-use plastic. The idea is to use their expertise to build coastal recycling operations that recover plastic from shorelines and sets up recycling stations at beaches, schools, hotels and town centers.
Tyson: Power is the physical world manifestation of ideas and beliefs. I believe power is inevitably, and thankfully, moving toward people with better, newer, and more altruistic ideas. In the past we've seen how we've had to leave traditions behind and move toward ideas that conform to a better future for everyone, not just the few that hold power and status. I feel most empowered when I can see the change my words and actions create in the world. When an idea turns into something we can hold. When a feeling inspires movement in others. My purpose is to add to the ways we think about our consumption in a healthy way. I'd like us all to reconsider the impact and purpose for creating things in the world, and I'd very much like an old industry to transition completely into a very necessary modern era.
Now we know that there's a network of neurons in the gut that play a part in our intuitive decision making. It's an amazing illustration of paying close attention to the physical and coming to the correct conclusion. Our body talks to us in so many ways that gets drowned out by all the noise in our environment, and how we internalize outside noise into our conscious thoughts, but sometimes you just have to lead with what you know is right, if you really feel it in your gut.
We too often feel shame for things that don't affect anyone else's lives, or the environment around us. I think this is a version of shame that we could definitely live without. We should express our ideas and our desires freely if they help others understand us better, and lead to more honest conversations about what we can do to include more points of view in the world that would otherwise lurk in the shadows.
NYC is a partner, and motivator, and a teacher. There is no better place where you can feel the hustle and fire in the people around. And there are few places where you can learn so much about yourself because of all the different situations that you can find yourself in. NYC is alive, so living/working here is a give and take relationship. It makes you feel like nothing is outside of your grasp if you truly reach for it.
IG: @bionicyarn
RO MALABANAN AKA "RO THE SHOW"
Professional boxing and Brazilian jiu jitsu black belt coach, Ro has developed a unique combat-sport and training methodology focusing on mind-body-spirit connection, working with clients at the most OG NYC training club, Mendez Boxing Gym. When not sparring, you can hear him expound on his philosophies on "Ratchet Dojo Radio", a mixed martial arts podcast dedicated to current events and the beauty of being a mixed martial artist.
Ro: Power comes from experience. With experience comes confidence. With confidence comes grace. That is power. We all have untapped potential. It usually takes some drastic life events for people to see how much power they actually possess. I feel most empowered when I am in the midst of helping my clients and athletes fulfill their potential.
Fire is calm. Fire is power. Fire is warmth. Fire is a source. Fire keeps you warm, feeds you, and it can also burn everything to the ground.
Shame is a feeling that… We were taught by our environment. The first thing my father taught me when I first came to this country, was that I was an immigrant, and I will never be a first-class citizen. Most of my younger life I walked around thinking myself a second-class citizen. I have learned this does not have to be my reality. I realized these were my fathers' thoughts, beliefs, and love he had for me- he chose to teach me this, in order to try to protect me, because that is what he knew. I choose a different way.
To be a New Yorker, you have to be willing to be pushed, shoved, and kicked around by someone you love but never reciprocate back. As much as you hate that feeling, you keep coming back, until one day you realize, you either love her or you eventually leave her. 
New York should be its own country. Every section of is like a separate state or city. New York is about being yourself, being original and being the best. Competition is fierce, which keeps you on your toes. This city gives you everything with a swipe of a Metrocard – the good, the bad, the grit, and the wealth, if you allow it in. To be a New Yorker, you have to be willing to be pushed, shoved, and kicked around by someone you love but never reciprocate back. As much as you hate that feeling, you keep coming back, until one day you realize, you either love her or you eventually leave her.
The Flatiron District sparks me to action. Surrounded by some of the most desired zip codes in the world, you find some of the best gyms, and martial-arts schools. After taking a class from these great schools, I feel confident, and I can take on the world.
IG: @rotheshow
SARA AUSTER
Sara Auster is a New York City–based sound therapist and meditation teacher. Her work has been a driving force in bringing Sound Baths to modern culture. Sara's thoughtfully crafted experiences allow sound to be used as a tool to invite meditative states, support self-inquiry and cultivate deep relaxation. She is a thought leader on how to inspire meaningful connection through listening. Her first book, SOUND BATH: Meditate, Heal and Connect through Listening, has just been published.
Sara: I spend a lot of time thinking about the power each of us has to listen deeply and how to use the power of sound to transform, heal and connect. Listening to sound is a universal experience. For centuries, sound has been used as a tool to celebrate, communicate, mourn, pray and reduce pain and discomfort. As a sound therapist, I aim to empower those with whom I work to embrace their role as participants, not merely recipients. When an individual shows up open and ready to activate and engage, a transformation occurs. I have experienced amazing healing with sound within myself, and I've seen it occur within others. In every case, the healing was accessed because of the willingness, engagement, and empowerment of the participant.
Led by a driving force to activate my senses, my purpose is to feel and be present with the fullness and richness of being alive. I strive to create experiences that invite people to be fully immersed in the present. Sound has become my medium, not only as a form of creative expression but most importantly as a way to hold space for others. The healing you experience in a Sound Bath is of your own making. You are the one who is nurturing and opening a path to your own state of wellness. You are the catalyst for your own change. I am simply creating the space for you to do so.
Fire translates to a syncopated rhythm and a moderately-fast tempo. Think of fire as a medium-high trumpet, alto saxophone or guitar, like you might find in metal or flamenco music.
Fire is also found in the heat and energy of the body. It exists in all metabolic processes and chemical reactions. It promotes appetite, digestion and metabolism, converting food to energy, and it creates thought processes and bodily impulses. Fire relates to vision because of its qualities of heat, light, and color.
I am a native New Yorker. Growing up in this city, you are taught to jay-walk and argue until your opponent exhausts themselves long before you master your ABC's. New York City is a symphony of sirens, screeches and buzzes, dialects and songs, rhythms and patterns, and I was enthralled by it. The energy of New York inspires me, and also drives me to find ways to slow down and get quiet.
IG: @saraauster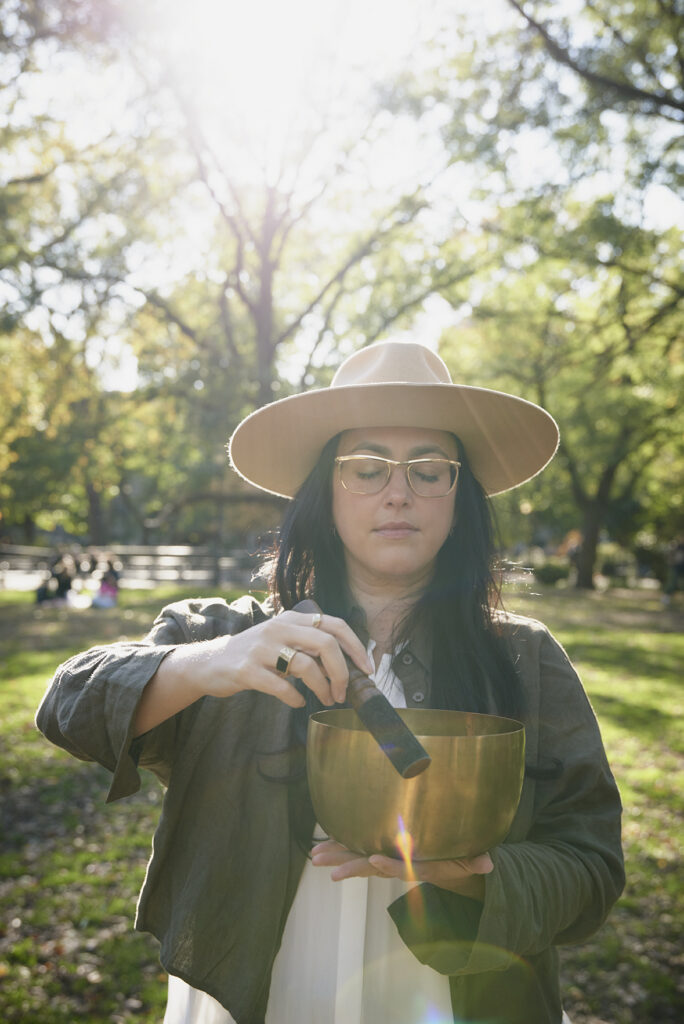 Sara Auster – Photography by Michael Marquez 
KRISSY JONES
I'm from Indiana. I grew up studying dance and I've always been fascinated by the body and its limitless potential. I studied Kinesiology at Indiana University where I first discovered yoga. After college I moved to NYC to audition for dance companies and I decided to start teaching yoga on the side. Yoga became my main passion once I found my mentor Nevine Michaan (Katonah Yoga), who taught me how to use yoga to live a more joyful and meaningful life. After studying under many teachers, I decided to open my own studio where I would be creative, create a community, and teach the method of yoga I love. SKY TING YOGA was formed in 2015 in Chinatown and now we have 3 locations, 40 teachers, trainings, and an online platform called SKY TING TV.
Power is the freedom to do what you want. Power is held by people who have control over their time and energy.
My purpose is to create, heal, bring people together, connect to source, and be of service. SKY TING is a manifestation of what drives me. It is the platform that had enabled me to grow my career and serve my community and fostered my spiritual development.
Shame is a feeling of unworthiness. Shame often is our biggest teacher in life. It shows us where are wounds are. In that way it can be an important part of human development.
New York is where I feel most alive. I feel free in New York – I have so many options to feed my soul. I love art, dance, sports, music, culture, and I can do all of it in one day in NYC. The thing that sparks me up most is seeing live dance – there's something so magical about watching such grace, refinement, and intention on a stage in a beautiful space set to beautiful music. It gives me life.
IG: @krassyjones @skyting
PAUL SCHREINER
As a teenager, I walked into a jiu-jitsu school after watching the first UFC, and from that point on, it took over my life. For years I split my time between Santa Cruz and Brazil to focus on training and competition. Then I started teaching. I moved to NYC, and began teaching at Marcelo Garcia Jiu-Jitsu Academy, and am lucky enough to have made a career doing what I love.
Power is control. In jiu-jitsu we learn to control our opponents by using the physics of our bodies to manage their movement and use their reactions against them. In order to control their bodies, we first have to control our own. To control our own body, we have to control our mind. Projected power starts with self-control and awareness. Jiu-jitsu is the language of action and reaction. At its heart is an awareness practice based on breath, feel and anticipation. Then it's about taking that awareness into action and applying the techniques. Jiu-Jitsu is technique and a will to win. There is power inherent in the techniques, but they are empty if there's no will, nor intention behind them. The most important thing in making a technique work is believing it will work.
Power as we experience it in our lives is the ability to shape and control our environment, by forming community and using it to create what we want or need. 
Power as we experience it in our lives is the ability to shape and control our environment, by forming community and using it to create what we want or need. I feel most empowered when I feel connected with my body and my breath – usually during long rolls at the academy when everything is clicking, the timing is there and you're just feeling and responding to what is happening – using jiu-jitsu's language of action and reaction. We tap into our right brain or flow state or whatever you want to call it and just deal with things as they are happening without judgement and the next thing you know you're doing that in the outside world too.
Shame exists for a reason biologically and socially and we haven't evolved past our basic biology. I think as 'evolved' humans we shouldn't pathologize it – but we shouldn't fetishize it and reproduce it without awareness either. Like most things that cause us mental anguish, the more we try to push it away the stronger it gets. But I don't see it being replaced by an algorithm.
NYC feels kind of atomized and alienating. On the subway everyone is just looking at their phone. Even still there are places I go that energize me: a coffee shop I like, the Russian Baths in the East Village. Day to day, New York for me is Marcelo Garcia Jiu Jitsu Academy. From the moment I arrived, I've spent more time on the mats there than anywhere else.
IG: @paulschreinerjj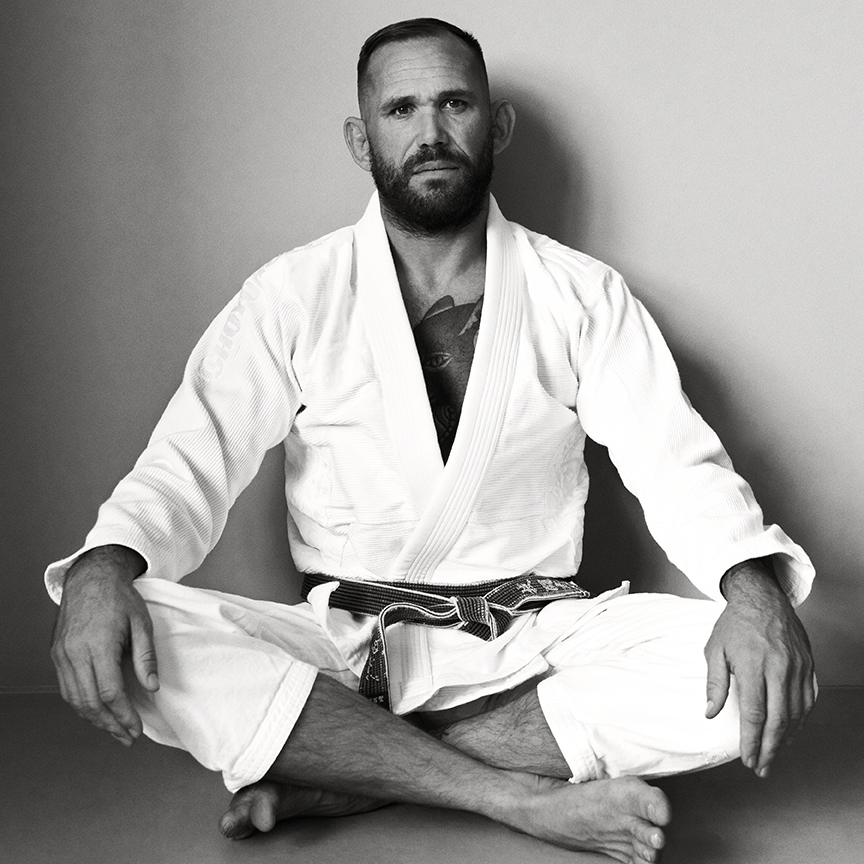 Paul Schreiner – Photography by Sebastian Kim 
TARYN TOOMEY
I am the Founder and CEO of The Class, a transformative workout of the body and mind. My happiness is music, passion, community and movement combined. I'm also quite silly and have a wild sense of humor. I'm a big proponent of laughter, it's the best medicine.
I think power is about one's ability to sit with and tolerate a sensation for long enough to be able to receive information that allows you to move into a place of action. The ability to use emotional tolerance to withstand a feeling, spend enough time with it, see where it's coming from, what it's trying to tell you, and when it began.
I believe strongly in the power of choice. Your choices are creating your life. This is not to be confused with circumstance. The power is within you. You hold it. I feel most empowered when I've been in the throes of something very difficult and I've practiced the work we do in The Class, which is about emotional tolerance and resilience. When I have steadied myself to receive the information and the feeling, and then I take action. That's when I feel the most empowered.
I find my purpose in this lifetime is to help guide people back into their own bodies, to hold the space for them to experience where they are, where they have been, and how they can move forward with more compassion, presence, awareness and grace.
Fire is the ability to heat and incinerate energy that has been stored physically, emotionally, mentally and spiritually so you can rise above it. Break down to break through. Break down to break through. Fire can facilitate that process.
Shame is a feeling that…we all have. We often use it as a way to self-lacerate rather than as a way to observe an experience with compassion toward yourself, as a human being, and take that information to accelerate your growth. Throughout our lives we are told things and feel things that have nothing to do with us. The interesting thing about emotions such as shame, guilt, and blame is that they hurt the exact thing we are trying to protect: our heart.
New York is a real concrete jungle – it is exhilarating and exhausting in tandem. Everything is at your fingertips and that can both negatively and positively impact you depending on what your own practices are physically, mentally, emotionally and spiritually. I personally have to leave the city often and get into the land in order to survive here.
IG: @taryntoomey @theclass
JOANNA VARGAS
Joanna Vargas is a clean beauty skin-care expert, and founder of an eponymous skin care collection. With salons in New York City and Los Angeles, her commitment to plant-based ingredients, her passion for science, and her nature-meets-technology approach has made her one of the most sought-out aestheticians and experts in the beauty industry today.
Joanna: Power is being confident enough to be yourself. We all hold power. We just have to allow ourselves to feel it. I feel most empowered when I know I have done the best for myself – after a workout, after I've done my best work, or when I have given someone back their confidence to be their best version of themselves.
I don't bother with shame. It's not helpful to anyone. If something goes wrong, we just need to learn from it. Shame makes people so introverted it won't produce good work or make you better for next time.
New York is the most real place on earth. People will always tell you the truth in NY and keep it real. NYC is life giving energy. The hustle is exciting and never gets old. I just love the streets of NY– it's a true melting pot of cultures and it's where I feel most at home. After a brisk walk in NY I feel like I can do anything.
IG: @joannavargasnyc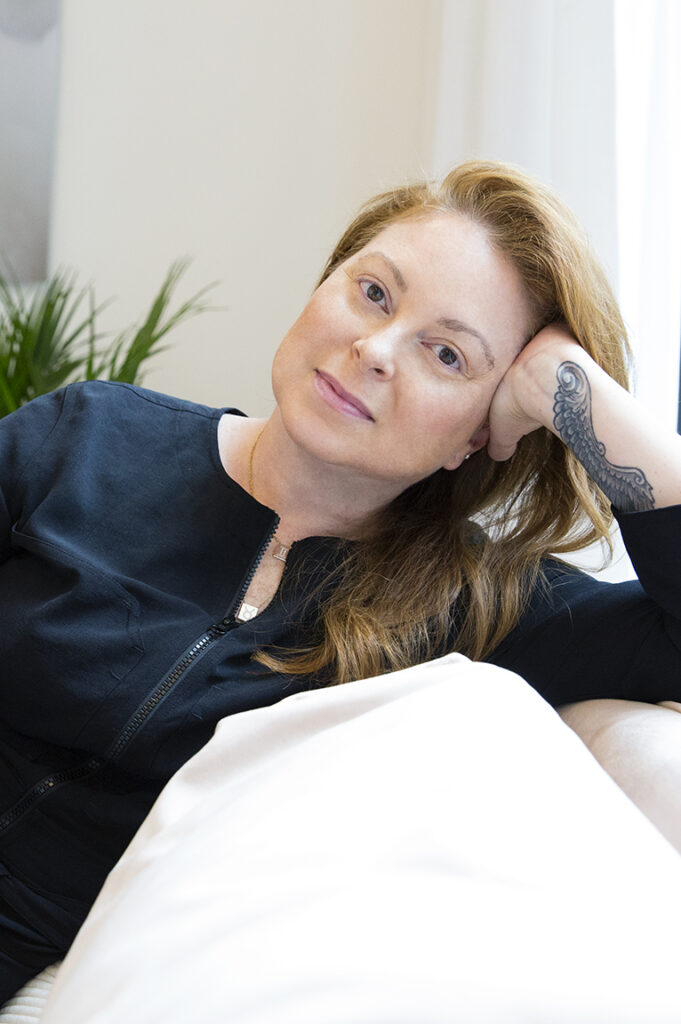 Joanna Vargas – Photography by Skye Parrott 
DAN COLEN
I am an artist. Seven years ago, I started building Sky High Farm, on the border of Dutchess, and Columbia counties, about two hours north of NYC. We are committed to addressing food security and nutrition by improving access to fresh, nutritious food for New Yorkers, living in underserved communities, by sustainably growing fresh fruits and vegetables and raising livestock exclusively for the purposes of donation by partnering with local food banks. We magnify our impact through our summer internship program to train new farmers. We work with prison gardens through the Bard College Prison Initiative, giving tutorials and farming lessons to inmates. We collaborate with workers' justice advocates helping inform farm workers of their rights, and on the flip side we work with farm owners, helping to educate them about their obligations to both documented and undocumented workers, and we've created a 'backpack' program at the local public school, where can children take home a bag of fresh produce. Sky High is committed to regenerative farming, doing what we can to mitigate climate change – such as carbon sequestering, soil improvement/conservation, watershed protection, and biodiversity enhancement.
In order to connect to a wider audience, find new platforms to discuss our work, and have a greater impact, while promoting the important work of our partner organizations, we've decided to launch a line of mission-inspired products. 100% of the proceeds from the sales go directly back into our operations. We are launching the products at Dover Street Market LA and NY.
Sky High Farm's approach to empowerment starts at the very beginning of the problem. We do not donate second rate meats and produce. Our partners receive only top-quality Grade A foods that provide both the nutrition and dignity they deserve. It's so important everyone has equal access to the food that best helps develop the bodies and brains of our youth. We want to create equity in the access all people have to quality food, that's our purpose. It is a basic right.
Fire is energy, it is fuel. Sky High is committed to growing and delivering fresh food. This food is the fuel and foundation that we all need to grow and reach our potentials.
I believe we can eliminate shame, we can live without shame. There are many physical and emotional issues people deal with when they are deprived of their most basic needs.
New York City is the best city in the world. It's all of it. All the people. All the diversity, the different neighborhoods. It is also a place of stark disparities. Sky High Farm's mission to help level the playing field with healthy food.
IG: @skyhighfarmhudsonvalley
VALÉRIE GRANDURY
Valerie Grandury is the founder and CEO of Odacité, the pioneering clean beauty skincare line, and co-founder of The Detox Market, a retail safe haven from an underregulated beauty industry. Already a decade into her successful and much needed foray into non-toxic beauty/ skin products, Valerie's commitment to sustainability in her products, packaging, and physical spaces, continues to expand, she now seeks a more regenerative approach, meaning giving more to the environment than she takes.
I have come to realize that our power lies in our courage to make the right choices. It takes courage to change what doesn't fit in our life. Courage to challenge the status quo and shake the norm. 
Valerie: I have come to realize that our power lies in our courage to make the right choices. It takes courage to change what doesn't fit in our life. Courage to challenge the status quo and shake the norm, courage to refuse to be captive of habits that don't serve us, courage to make necessary decisions, courage to find our own voice. But then and only then, we are empowered with the confidence to walk into the life that will make us happy. My purpose is to turn the beauty industry from gray to green. I'm committed to offsetting our carbon footprint by planting more trees, sourcing ingredients from farmers that practice regenerative land agriculture, and switching to more renewable energy. We owe it to our children and the generations to come to leave the earth in a better place, a place where life as a whole can flourish.
Shame can be healthy. Feeling shame means we are decent human beings with a conscience. When utilized appropriately, shame turns into an opportunity to take accountability for our actions, an opportunity for change and alignment with our core values, shame is a teacher that can help us become more of the person we want to be.
Being a nature person, for NYC to create its magic on me, I need to take it in homeopathic doses. Less than a week is like a shot of pure energy, passion and creativity, more than that will start to suck life out of me.
IG: @odacite @thedetoxmarket
RAQUEL CALVELOS
After fifteen years of studying and luxury brand-building in the Middle East, Raquel has returned to New York to launch PurposefullPaths, a conscious, purpose-based form of hybrid consulting and coaching. Her work focuses on enabling individuals and companies seeking clear objective perspectives on who they are, and where they are, in order to determine a meaningful set of goals and strategies to empower impactful transformation. In other words, she helps people and companies find their Purpose (capital P).
Raquel: My personal definition of power is the self-generated sense of trust, desire and ability to create. Whoever believes they have power and creates, holds it. I feel most empowered when I feel genuinely connected to myself, my intuition, feel prepared and trust that I am capable to work through whatever is about to come my way regardless of outcome.
My purpose at an essence level is CONNECTION. Authentic, conscious connection to myself, to others, to the planet and to my life purpose. I now guide others who seek to fill that gnawing void or a sense of surviving vs thriving – regardless of whatever "success" they have achieved. I help people to connect with their personal essence in order to discover their purpose and consciously consult with them on how to practically align that purpose harmoniously within their personal and professional realms.
Generally speaking, shame if experienced on an unconscious level, can be a feeling/belief born out of self judgement and/ or fear of judgement by others. Depending on the trigger, it can feel very profoundly real and absolute, resulting in a sense of limitation, impossibility, isolation, desperation. In many cases, it keeps people hiding in the shadow of an illusionary monster, blocking them from moving forward – trapping many in paralyzing trauma, pain and silence. However, consciously understanding what shame represents and using the sense of shame as an emotive red flag to look deeper into what is specifically triggering it can be an incredibly effective tool. It can be an empowering tool for personal subconscious understanding, evolution, a heightened ability for compassion and forgiveness.
New York is place of creation, inspiration and infinite possibility. There's something about this city that is simply unparalled in terms openness to new concepts and making magic happen for those who truly feel called to create. New York has the amazing duality of giving so much, and simultaneously testing you. How much of yourself are you willing to compromise in the process?
THOMAS DROGE
My life has been a journey of exploring the freedom, quiet and balance, that comes from being present in the motion of life. The first time I found stillness, was skateboarding empty swimming pools as a teenager. Later, I would come to find that same peaceful flow in qi gong, kung fu, contemplative practice, poetry and Chinese medicine. I created a process, to help people tap into the archetypal truths that we all move through in this journey of life. I am currently writing a book called Pathfinder, outlining the method I developed to step through life's blind spots, and consciously evolve into greater awareness, freedom, and passion. My ultimate mission is to build a greater awareness of how the secret wisdom of the Universe is mapped within the body, from the smallest subatomic particle to the entire multiverse.
I'm bringing this work to corporations, building vulnerability, increasing communication, directing purpose, and ultimately building highly conscious corporate cultures.
Power is love, plain and simple. It is the result of clearing the mind of fear and desire and opening the heart. Direct perception is the natural result of a clear mind, and it makes all questions disappear, leaving only the infinite moment. Anyone who is able to bring their mind to stillness and clarity and open their heart can hold power. I feel most empowered when I'm in a situation that has no script and I drop into the moment, laughter, pain or anything in between. Often when I'm teaching, practicing Qi Gong or in nature, or riding through the streets on my 'one-wheel.'
Shame has no use for us. It's like learning from a mistake and then topping it with some self-abuse. We don't NEED to suffer to learn. Shame is the reptilian brain's way of teaching, but it spreads suffering to all it touches. 
Shame has no use for us. It's like learning from a mistake and then topping it with some self-abuse. We don't NEED to suffer to learn. Shame is the reptilian brain's way of teaching, but it spreads suffering to all it touches.
NYC is the near pure expression of human mind externalized. The streets look like arteries and veins, the people and cars like different cells carrying information and function. The heart of the city are the folks who power it with their dreams and ideas. At its best NYC can take an idea and turn it into the most amazing thing, at its low side it can wear you down while you try to manifest it.
The piers by the river bring me peace when I can't find it elsewhere. Music that pours out of a passing window or local bar on a summer night fills me with inspiration. The willingness of people to step 1000% into their passion on a street corner or subway platform and just GO FOR IT with their art never ceases to blow me away.
IG: @thomasdroge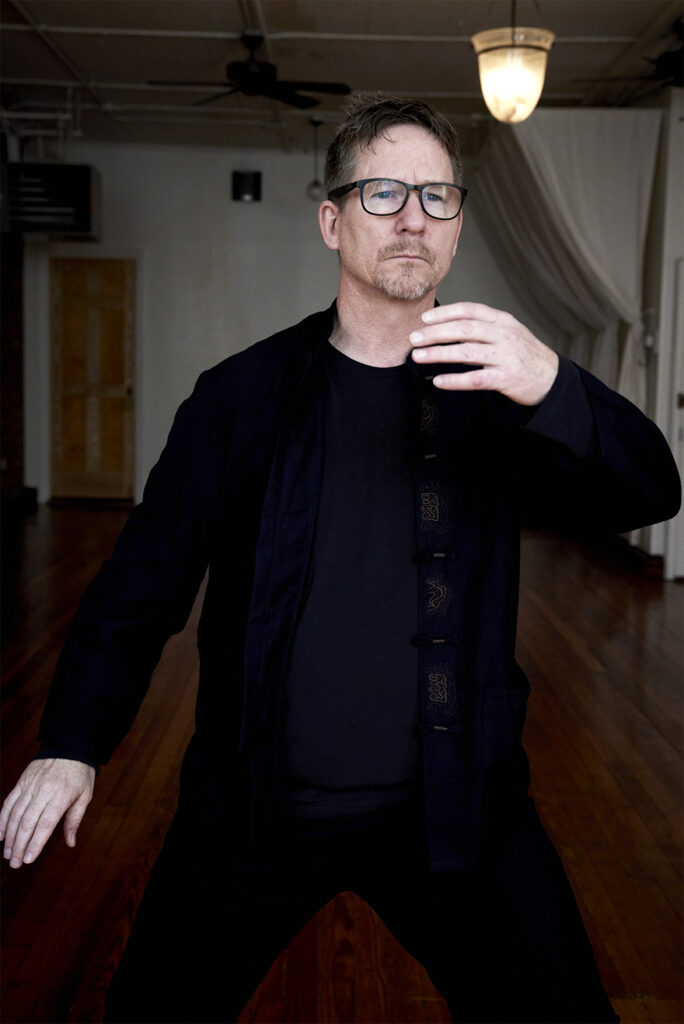 Thomas Droge – Photography by Michael Marquez