Sara Auster is a New York City–based sound therapist and meditation teacher. Her work has been a driving force in bringing Sound Baths to modern culture. Sara's thoughtfully crafted experiences allow sound to be used as a tool to invite meditative states, support self-inquiry and cultivate deep relaxation. She is a thought leader on how to inspire meaningful connection through listening. Her first book, SOUND BATH: Meditate, Heal and Connect through Listening, has just been published.
On Power in issues 03 – Chakra 03
I spend a lot of time thinking about the power each of us has to listen deeply and how to use the power of sound to transform, heal and connect. Listen- ing to sound is a universal experience. For centuries, sound has been used as a tool to celebrate, communicate, mourn, pray and reduce pain and discomfort. As a sound therapist, I aim to empower those with whom I work to embrace their role as participants, not merely recipients. When an individual shows up open and ready to activate and engage, a transformation occurs. I have experienced amazing healing with sound within myself, and I've seen it occur within others. In every case, the healing was accessed because of the willingness, engagement, and empowerment of the participant.
IG: @saraauster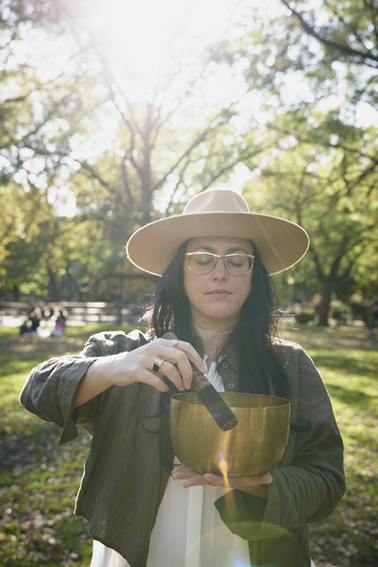 Photography by Michael Marquez