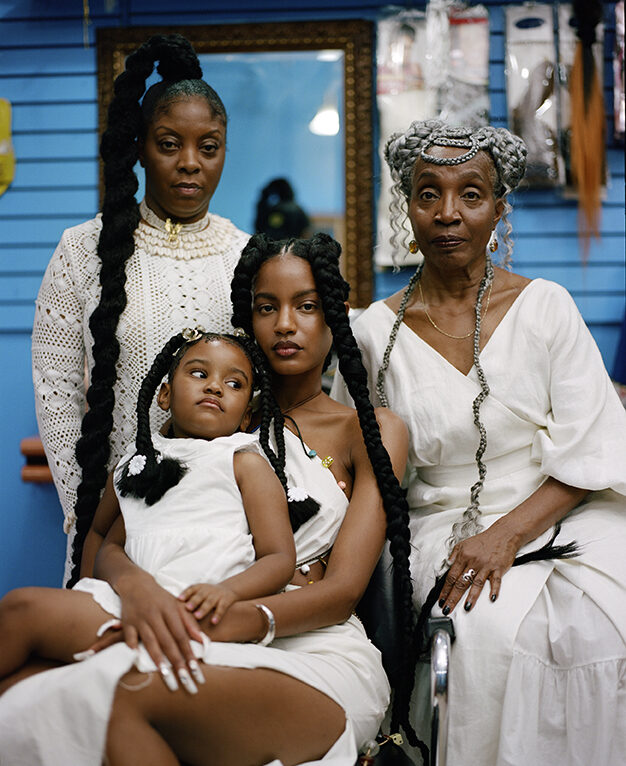 To access our personal power, we must acknowledge the collective identity that we share with those who came before us, and those who will come after. Through respectfully highlighting cultural motifs, this story exemplifies the vital connection one must have with their community, in order to uplift, inspire, and reach their full potential.
Black hair salons have long been a safe space for Black women – beauticians and patrons alike are our therapists, friends, and confidants. Personally, I feel most empowered when I'm surrounded by Black women. The Black women photographed alongside me hold particularly deep meaning: my grandmother Nancy Palmer, the matriarch of my family, Ms. Nadia Lopez, an educator and personal mentor who has helped foster my activism, and Soli who represents both my inner child and future generations of Black women, who will receive wisdom, love and guidance from their ancestors both living and departed.
This shoot is special because not only was I given the opportunity to art direct and communicate a narrative that is essential to the Black experience, I got to select the team that made it happen. I made sure that Black women were just as present behind the camera as they were in front of it. Whether it's working with all Black teams or using my platform to highlight up-and-coming Black talent, I am very conscious of every aspect of my creative process. The more intentional I am throughout, the greater the impact of the end result. I am creating waves of change that will ripple through people's subconscious mind and eventually manifest in the physical as liberation for me and my people.